一、Product Brief
Coal mill steel rod is refers to the grinding medium,the rod is used in coal water slurry preparation vaporization workshop. At present, 65Mn material is widely used in China, and other materials account for a small proportion. The hardness and toughness of ordinary 65Mn steel bars are relatively low. The wear resistance of steel grinding bars are after quenching and heat treatment has been greatly improved. Its hardness is as high as HB500 and toughness is enhanced. It is not easy to break, bend and wear out. At present, the 65Mn steel bars after heat treatment occupy the majority of users in domestic coal chemical industry.
二、Description of Manufacturing Process for Steel Bar of Coal Mill in Our Company
1、 Raw materials are hot rolled 65Mn round steel in Baogang, Huaigang Steel and other large national steel mills, and the GB699-1999 standard is implemented.
2、After re-inspection of raw materials, the main testing items are chemical composition, segregation, inclusions, grain size and so on, to ensure that the parameters of raw materials meet the relevant GB699 standards.
3、After the raw materials are qualified, the bending degree is adjusted first. The main machine is industrial straightening machine to ensure that the bending degree does not exceed the standard.
4、Sawing machine blanking, cutting steel rod length, control within the deviation required by customers.
5、The sharp corners are polished with a polisher at both ends, and a small R-arc is produced.
6、The furnace is heated one by one to about 900 degrees Celsius required by the process, and is carried out one by one on the straightening wheel to ensure that no secondary bending occurs.
7、Professional quenching equipment for quenching, hardness control in HRC 45-55 degree range.
8、After quenching, it is fed into the incubator, and the remaining temperature is kept for more than 4 hours.
9、After natural cooling, it is fed into professional tempering furnace, tempered at medium temperature, and its hardness is controlled in HRC 40-50 range.
10、Sampling drop test to ensure that the broken rod rate is less than 1%.
11、The second tempering process is determined according to the drop condition.
12、Examination items such as hardness test
13、After passing the inspection, bundle, package and store.
14、Waiting for customer review before delivery.
15、The flow chart is as follows: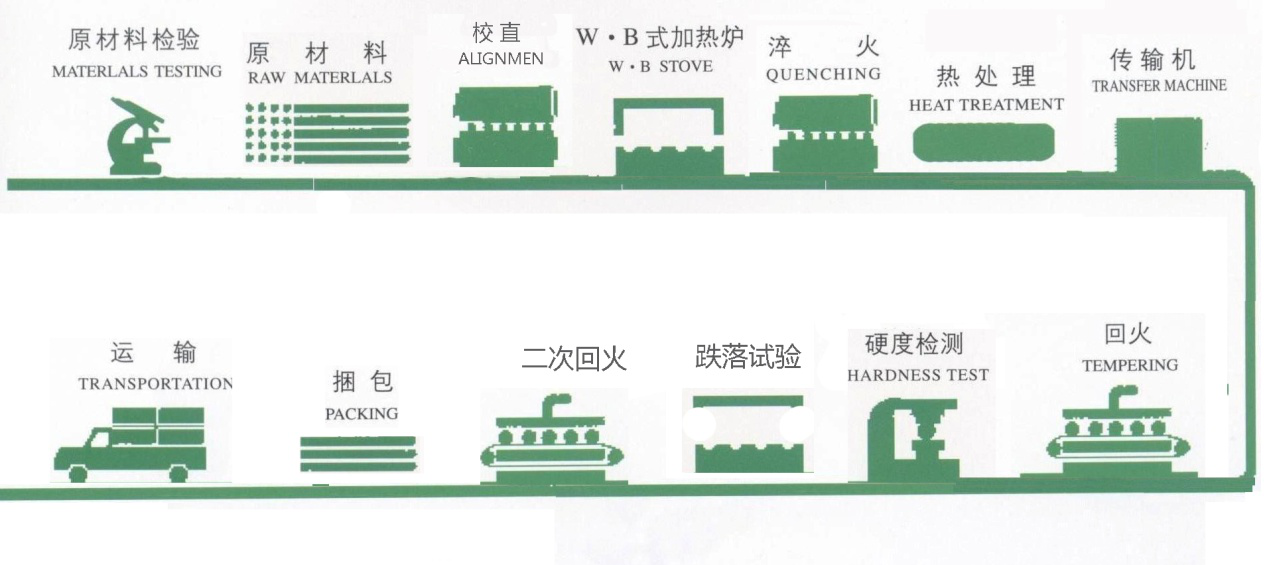 三、Forging-rolling Steel Ball Capacity Table
The annual production capacity of mill steel bars of various sizes, such as 50*5850mm, 65*5850mm and 75*5850mm, is 50,000 tons. According to the order quantity customization, generally has 6 meters long raw materials, emergency orders can be processed and picked up at high speed.
四、Rainbow Material Number and Chemical Composition Table
It is usually made of 65Mn material. It can be customized if there are special requirements.
五、Coal mill steel bar packaging
Steel bars of coal mills are usually tied with iron bars, about 2 tons per bundle.
六、Conclusion
Our company has been manufacturing and exporting mill steel rods/bars for many years. We have rich experience in production, inspection, transportation and export. We are willing to base our long-term cooperation on high-quality products, timely shipment and delivery, competitive prices and satisfactory services. Our goal is to be a professional supplier of high-quality wear-resistant consumables for mines in China.
七、Physical picture